Having a floor to ceiling grab bar can offer many benefits to those that require assistance with movements. These sturdy handicap standing poles and grab bars are easy to use, do not damage structures during installation, extremely versatile, assists you when standing up and are comfortable to use. Due to the jackscrew installation process, these medically assisting vertical poles and bars can be installed anywhere in the home that has a floor and a ceiling. With the floor support, it has withstand more weight than a standard grab bar. They are also able to be used in the bath or shower, will never rust and come with extenders for taller ceilings.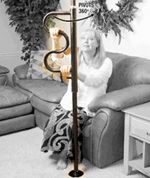 Using a floor mounted grab bar, you will be able to give your loved one the freedom to be able to accomplish some of their daily living tasks independently. By giving someone independence while providing them safety, you increase both the patient and the caregivers' satisfaction.
These handicap super poles are also appropriate for larger users as the poles support a weight limit of 450 pounds, which allows larger users freedom and independence.
Advantages of Ceiling to Floor Mounted Grab Bars
There are many situations where a floor to ceiling grab bar can be useful. Here are a few examples.
Help someone rise from beds or chairs.
To assist someone in showering without assistance.
In the bathroom, floor mounted safety bars are excellent support devices for wet environments.
Provide floor mounted grab bars for toilets and allow someone to use the toilet without assistance as an alternative to toilet safety rails.
Allow for support in any situation where a patient may need assistance in moving and transferring.
Floor supported grab bars that can take more weight.
In addition, a handicap pole is also great in helping those recovering from joint replacement. Those temporarily handicap will find the floor mounted grab bars are a perfect aid around the home as they slowly recover.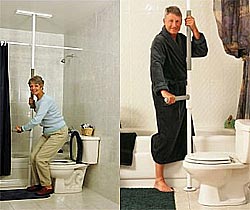 Floor mounted grab bars range in price averaging from $180 for the regular pole to $240 for the super pole to allow for an increased weight capacity.
Recommended Vertical Grab Poles
Here are some recommended floor to ceiling grab poles that go vertically from floor to ceiling. They work in many environments and are great bathroom grab poles.
In order to meet American with Disabilities Act guidelines, handicap bars should be, 1 1/4 to 1 1/2 inches thick, shall have a bending stress, shear stress, shear force and tension force of at least 250 pounds, must not rotate within its fittings and must not have any sharp surfaces or abrasive elements, edges should have a minimum radius of 1/8 inch.
Continue to maintain safety, regain independence and freedom with the floor mounted bars.