Handicap Bedroom, Handicap Equipment
Furniture risers have both functional and aesthetic uses around the house. They are available in many different materials and heights, from 1" to 10" and higher, and in metal, acrylic, plastic or wood. The wood risers require the same maintenance as any other wood furniture, but the plastic, acrylic and metal are relatively maintenance-free. Bed risers can provide additional storage space under the bed and make it easier to get into and out of bed, as well as providing the upscale look of a bed that is higher off the floor. They work very similiar to toilet risers where the toilet seat heights are raised to make it easier to sit and stand up.
Benefits of Furniture and Bed Risers
For those with limited mobility issues, a bed that is higher off the floor can help them get into and out of bed more easily. Those who have temporary mobility issues can also benefit from the use of bed and furniture risers as they are an economical way to accommodate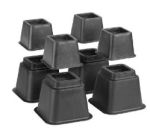 temporary mobility issues. Placing bed risers under the head of a bed can help those with acid reflux to manage their symptoms more effectively. For those who are in a wheelchair, using furniture risers under a desk or table can give them access to spaces that otherwise might be too short for them to use. Simply take advantage of adjustable height low bed risers that can be stacked on top of one another to meet your optimal height.
Chair Risers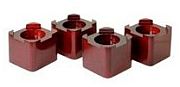 For many elderly, chairs can be difficult to navigate. Chair risers can make it easier for them to rise from chairs without the expense of chair lifts. The addition of both chair risers and bed risers are an economical way to enable seniors to feel more independent.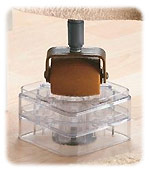 Wooden furniture risers can be placed under dressers to raise them off the ground so that the bottom drawers can be more easily accessed, or to provide additional storage space. Risers can also be used under computer towers to create a static free zone.

When buying bed risers, chair risers or desk risers, be sure to measure how high you need the furniture to be raised. Sit comfortably in a chair and check if your knees have enough space. Since some of these risers are stackable, you can add as much or as little as you like until you find the right fit.
Sofa Risers
These furniture risers are great for beds and chairs but they work for sofas and couches too. With these sofa risers, you can easily raise a sofa up for the elderly and for people who require limited movement of their hips and knees when sitting down or standing up.
Buy Recommended Sofa Risers – This is an easy solution to get a sofa to sit up higher without spending a lot of extra money finding a customized height sofa.
With the variety of materials and finishes of furniture risers available, risers can be found to fit most any need.
Tags: Furniture Risers, Sofa Risers