Bathtub grab bars are seen in many places such as nursing homes, hospitals and public rest rooms. People today have installed them at home for elderly people. This is so helpful when you need extra assistance for getting up and down from the tub or the toilet. These grab bars will provide the support you need everyday. It is convenient and safe for the children to use as well. We all know how energetic children can be. They are beneficial for the whole family. This will help you hold on while in the tub and keep you from falling.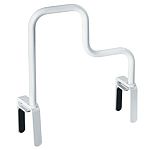 Bathtub grab bars are necessary items to have if you routinely have trouble supporting yourself in and around the tub. If you are sore and hurting, this will also help you immensely. People who have has mild strokes will benefit from this as well. An elderly parent that lives with you will benefit by using this item. Elderly people are just not as stable as they once were. Having safety grab bars in the bathroom is great for them and will provide you with a peace of mind.
There are portable grab bars called suction grab bars that can be used all over the house. Using the grab bars will improve one's quality of life so they can feel like they can do what they were previously able to. Shower grab bars are another good item for your bathroom.
Where To Buy Bathtub Grab Bars?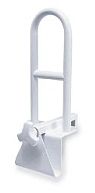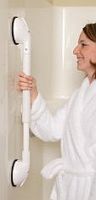 There are many places to buy these items such as Walmart, Walgreens, Target, Lowes and medical supply stores. It is good to compare prices first. There are also online stores that sell these products and you can order right from your home. Some of these places give free shipping and good deals like buy one and get one free. These are not expensive either. Suction bars can start at $14.95. Some that are larger are $39.95 and up. It really depends on what you choose. Some of the permanent ones can start at $39.95 on up to $263.64. Here is a list of affordable and recommended grab bars.
Buy Best Recommended Portable Bathtub Grab Bars
Use these bathtub grab bars as extra assistance for stability but do not rely on it to completely support your full weight. Some bathtub bars, such as bathtub rails and tub to floor rails, do support heavier individuals but they must be fitted and installed correctly.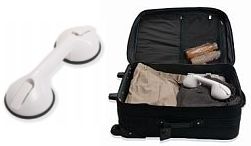 Improving your safety in the bathroom, home or where ever you go on vacation will protect you from slippery falls and injuring yourself. These portable grab bars can fit in many suitcases so you will not have to worry about a hotel providing extra safety. It is a great peace of mind having grab bars in your home. Keeping your loved ones safe and healthy is a number one priority. All of these types of bars will give you a sense of security.