Unfortunately for many individuals, at some point in their adult lives, they will have to suffer from the embarrassing side effects of incontinence. Although many may realize that managing incontinence is another part of what is to be expected with growing older, it does not make it any easier to experience. With the right incontinence equipment, one can live a normal and easily maintained life.
Elderly Incontinence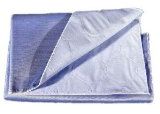 Incontinence affects more than 12 million Americans and not just the elderly. Incontinence is most often due to stress or an overactive bladder, or OAB. Overactive bladder is due to urinary muscle spasms that cause an urge to urinate. Stress incontinence, is more common in women, and occurs when small amounts of urine leak with laughter or coughing. Other causes for incontinence can include pregnancy, genetics and being overweight.

Ways to treat incontinence include exercise, bladder training and dryness aids. Kegel exercises can help both men and women who are suffering from incontinence and the methods behind bladder training or timed voiding can help you to train your bladder's schedule for storing and voiding urine.
Dryness Aids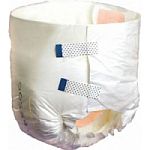 However, many individuals find that dryness aids such as adult diapers can make people feel a bit more secure to go out. Adult diapers do not cure incontinence but give people the freedom to not have to worry about leaks. Other aids that a person who is dealing with being incontinent may want to consider are bedside commodes. These can cut down on the number of accidents and can also make bladder training easier.
Incontinence Equipment
Here are some recommended incontinence aids that can help absorbing urine or preventing accidents from occurring in bed.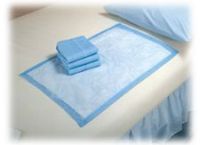 Causes of Incontinence
There are many causes of incontinence, such as multiple sclerosis, diabetes, infection, side effects of medications and enlarged prostate. It is important that you consult with your physician, if you are experiencing the effects of incontinence so that a correct diagnosis can be made.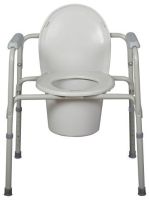 Incontinence is diagnosed by your doctor. He or she will review your symptoms, medical history and do a physical exam. Typically, questions such as how often you emptied your bladder, when urine is leaked or when accidents occurred will be asked. Tests that may be done can include a stress test that involves coughing, a urinalysis, blood tests, ultrasound or cystoscopy (looks at the interior lining of your bladder and urethra) may be performed. Not every test will be done on every person. But a doctor's visit is the first place to getting help for incontinence.
Being incontinent or having incontinence is nothing to be ashamed or embarrassed about. With a proper diagnosis to determine the cause, there are many options available to help make living a normal and leak free life possible.