Lift cushions are designed to assist individuals with getting into or out of a seating position.
Anyone suffering from muscular problems resulting in weak upper or lower body strength, stiff or arthritic joints, incapacitating injuries, or bad backs, may benefit from using a lift cushion. Caregivers who transfer patients between chairs and wheelchairs will also benefit from minimizing the amount of strain placed on the patient and the caregiver's back. Depending on the design, lift cushions for chairs can fit into a variety of sitting areas, including handicap recliners, sofas, dining room chairs, wheelchairs, restaurant chairs, or theater seats, thus providing a portable, low cost alternative to lift chairs.
Different Types of Lift Devices
There are different designs of lift cushions for chairs offered from online retailers. A lift cushion may be constructed of an upholstered foam seat attached to a low-profile seat lifting mechanism (Uplift/UPEASY) or consist of inflating air pouches. These seat lifts are quite affordable.
Buy Recommended Lift Cushions and Chairs
Here are a list of recommended lift cushions at the lowest prices found online.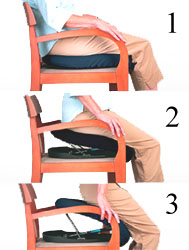 The most portable and low cost chair lifts rely on a non-powered hydraulic assist mechanism that can lift 70% to 80% of the patient's weight and requires the patient to use their residual muscle strength to help.
Powered lift cushions rely on an electric motor or air pump to lift 100% of the patient's weight. The cost of lift cushions utilizing a hydraulic mechanism or electric motor is between 100 and 300 dollars, depending on the retailer. These devices weigh approximately 10 to 12 pounds and have upper weight capacities reaching 250 to 350 pounds, depending on the model.
The purchase of lift cushions may qualify for reimbursement from approved durable medical equipment suppliers under Medicare using the codes 715.95, 715.96, or 715.90 for arthritic knees, hips, or other arthritic locations, respectively.
The guidelines for assistive technology devices under the American Disabilities Act does not explicitly cover lift cushions for chairs, but adjustments to the height of tables and counters may be needed due to increased height of the patient sitting on some models of lifting cushions.
Tags: Lift Devices