Benefits of Lift Chairs
Lift chairs allow people who have immobility issues to have a chair to sit in that can be adjusted to their specific comfort.
Handicapped chair lifts make it possible to change to a straight up position so the person can have a more manageable time getting into a standing position. This also allows for an increase in independence; something most people who use this product will appreciate. Before we consider buying lift chairs, let's explore all the capabilities, benefits and different types of lift chairs
What kinds of persons need a lift chair?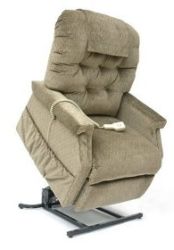 For persons post surgery, sitting on a chair is a tough obstacle. Doctors may restrict their range of motions for their hips and knees. For this reason, they are unable to bend at the hip or put pressure on their knees. With a lift chair, you can place limited stress and pressure on knees, not to mention providing ease when you stand up. Disabled people with missing limbs or other handicaps will find lift chairs very helpful. The elderly with weaken lower body strength can use these medical lift chairs to stand up from a sitting position. No longer will they have the fear of sinking into a chair and be unable to escape. The elderly can nap in a reclined position and wake up fully rested. For the obese, a heavy duty lift chair can support much heavier weights in the 500-600 pound range.
How is a lift chair used?
Lift chairs are mainly used for the elderly, disabled and debilitated. There are three main positions of lift chairs:
Two-position lift chairs – straight and slightly reclined. Can recline to almost 45 degrees.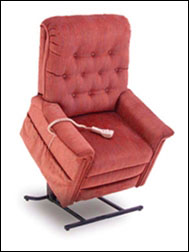 Three-position lift chairs – straight, slightly and fully reclined. More recline than 45 degrees and can reach almost full recline.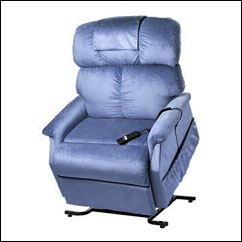 Infinite position lift chairs – ranges from straight to flat position. Full incline and can adjust recline preferences, individually, for the back and legs.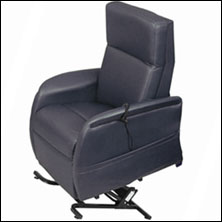 For the 2, 3, and infinite positions, you can adjust the chair anywhere in their ranges. The numbers are not specific to positions, only ranges. For example, the two position lift chairs can be adjusted to be anywhere from straight position to almost 45 degree recline. Lift chairs come in many colors that are not listed on this page. Black, grey, brown, blue, leather and neutral colors are just a few of the selections.
Installation of Lift Chairs
Lift chairs are exactly like regular recliner chairs, so they are easy to have delivered and installed. Most compromise of a pluggable switch or battery pack. Once you removed all the packaging, the lift chairs should be ready to use. They come with a button that electronically lifts or reclines to the desired position. Most can be plugged into an electrical socket and be charged with a battery in case of any power outages.
Chair Lifts Cost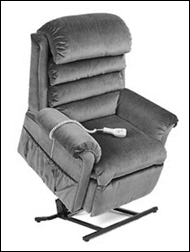 Lift chairs start at a base price of about $400. A luxury model that is made of leather and has massage and heat options will run for about $2,000 and up. There are devices that stimulate the actions of a lift chair called seat lifts or seat assists with a price substantially lower than lift chairs. If price is a huge concern, you can settle for a seat lift.
Does Insurance Cover Costs?
Medicare will allow for a $300 credit toward the purchase of the lift mechanism for these chairs. This is only a portion of the lift chair and not the entire chair. Check your private insurance if they will cover more of the chair.
Tags: Infinite Position Lift Chairs, Three Position Lift Chairs, Two Position Lift Chairs