Many people have trouble getting in and out of tubs due to a variety of health reasons and lifts offer them the chance to experience a relaxing soak. For some, it is a matter of not being able to step into a traditional tub. Others do not have the financial resources to remodel their bathrooms and remove the lip or curb of the bathtub. Bathing cushions can be the answer.
Bathing Cushions
Bathing cushions allow the user to sit in a relaxed position and be lowered gently into the water. Whether the bathtub lifts come complete with a rechargeable air compressor to operate the lift is a matter of economics. Some have them while other inflatable bath cushions plug directly into a receptacle to provide the lifting power needed.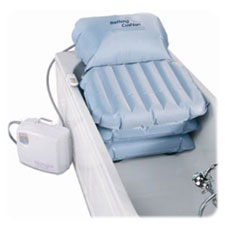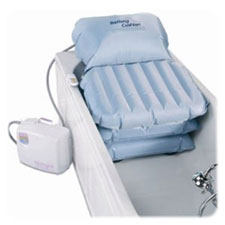 Inflatable bath cushions are filled with air in two or more chambers. The user sits on the cushion and with a press of a button, is lowered slowly into the water. When they are done, they simply press another button that raises them slowly up and out of the water, where they can step onto the floor completing their bath time ritual.
How to Use Bathing Cushions
Carry the air powered bathing cushion to the bathtub and unfold the device. There are suction cups on the base of the cushion for attaching to the surface of the tub. Use the airflow compressor to fill the bathtub cushion with air. When the bathing cushion is fully inflated, it should reach to the top of the curb. Then use the bathtub cushion to sit on, get comfortable, relax and lower yourself.
Best Recommended Bathing Cushions
Sturdy Inflatable Bathing Cushions – The bathing cushion supports 330lbs and is made of nylon. Sit on this thing like it's a bench and it will hold your weight. It is a bathing cushion that is a air powered bath lift.

Handicap Bathtub Lifts – These bathtub lowering lifts are easy to install and are capable of lowering and raising up to 300lbs. Be able to enjoy bathing again without worry about your personal safety.
There are also some mechanical handicap bathtub lifts that provide the same type of service but they are a semi-permanent option because it is not easy to remove from a bathtub like the inflatable bathing cushions. The inflatable lifts and cushions can be easily removed from the tub, out of the way, for others to use the same tub.
For the many people that cannot otherwise get in and out of a traditional bathtub without assistance, it offers them the sense of freedom and dignity that they may not otherwise have. Being able to experience the privacy of the simple act of taking a bath can restore some of the freedoms that their handicap has limited.