A Hoyer lift is a mechanical lift that is used to transfer patients from their beds to a wheel chair, reclining chair or bedside commode. It is used for patients that are either completely unable to move by themselves or partially so. A Hoyer lift is normally electric or hydraulic in mechanism. The older types of Hoyer lifts were cranked by hand.
Patient and Hoyer Lift Slings
Hoyer lifts come with a piece of cloth, most normally made of canvas or nylon, which is like a hammock that fits underneath the patient. The cloth is attached to straps that have chains and a hooking device on them, to attach to the cloth. When attached properly, the Hoyer Lift can move patients safely with no strain, to either the patient or the caregiver.
Benefits to Hoyer and Patient Lifts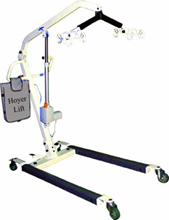 There are many benefits to using a Hoyer Lift. They not only provide the patient with a more comfortable transfer but they allow the caregiver to be able to move the patient without straining his or her back or other muscles. Although it is a good idea to have two people available when using the lift, it is not necessary. One person who is trained properly to use the patient lift, can do so, safely. A Hoyer lift can also lift patients that are too heavy to be, comfortably or safely moved, otherwise. Hoyer lifts are capable of lifting weights ranging from 350lbs to 450lbs. In a hospital or nursing home setting, Hoyer lifts allow a single nurse to transfer the patient, instead of needing several nurses, to turn and lift. The lift is also more comfortable for patients that have trouble bending because it allows them to remain supine or laying flat and gently putting them into a sitting position.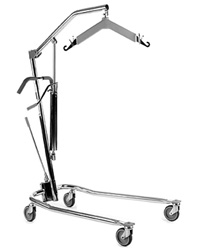 Benefits of Hoyer Lift Transfers
A Hoyer lift for home use can be very beneficial if you are caring for a loved one at home that has become immobile. Using this type of lift is not hard to learn and all types and styles come with specific instructions on the proper way to use them. Using a lift decreases the rate of injury to both the patient and the caregiver. It allows the patient to be moved with more privacy as it only requires one person to operate it. For some people who are lighter in weight, caregivers use transfer gait belts.
Maintenance of Your Hoyer Lifts
Taking care and maintaining your lift will help assure long term use and proper functioning. Here are some instructions from the manual.
Base and Wheels – Check if the base is even and level with all four wheels are on the floor, the wheel bolts are tight and that the wheels swivel and roll easily.
Base Adjustment – Secure all the base locks, make sure all parts are present and that the base opens and closes smoothly. Check spreader lock and all hardware for wear.
Mast – Is the mast fully engaged and locked into mast sleeve? Inspect for bends or deflections and all bolts and nuts for wear.
Boom – For the boom part, inspect all bolts and nuts for wear and ensure the boom is centered between the base legs.
Cradle – Check hanger post for wear or damage. Replace post if wear exceeds 1/16 inch. Check sling attachments for wear or deflection.
Swivel Bar – Check nut at bottom of swivel bar hook and eye hook on boom for wear. Check for two nylon washers between nut of swivel bar hook and underside of swivel bar assembly.
Pump Assembly – Tighten seals around piston with a spanner wrench and check that the pump handle and valve work smoothly. Check for oil leakage from the lift. A light film is normal, but not to the point of dripping.
Slings and Hardware – Check metal parts for wear or damage. Check slings and web straps for wear or damage.
Lubrication – Oil all pivot joints, including: Top of mast where boom attaches, top and bottom of actuator mounting, pump handle hinge. Use a light grease to lubricate base adjustment lock plate and all rotating hardware wheel and swivel bearings.
Cleaning – Use a mild soap to clean and then dry thoroughly. Apply auto or appliance wax. Keep painted surface clean from oil and do not wash under water pressure.
These maintenance solutions are for your standard Hoyer lift. Your particular model might differ and it is best to consult your own manual. These instructions are for lifts with hydraulic pumps.
Use pump to raise boom to position for lifting patient.
Do not lift up on end of boom to position for lifting patient as this causes air to be drawn in under ram, preventing pump from lifting when handle is pumped.
Do not press down hard on handle when bottom of stroke is reached.
It is a common occurrence after a few hours of non-use for the boom to lower with no weight suspended from the end of the boom.
This does not indicate a faulty pump but is a trait common to hydraulic equipment.
Do not attempt to lift someone with a faulty hydraulic pump.
Do not wash slings with bleach. Bleach will damage material.
Slings can suffer damage during washing and drying.
Always check slings before use. Bleached, torn, cut, frayed, or broken slings are unsafe and could result in serious injury or death to patient. Destroy and discard worn slings. Do not alter slings.
Patient Transfer Lift Costs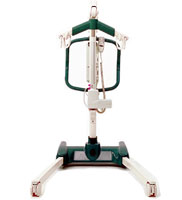 Some insurance companies will pay for the entire cost of a Hoyer lift while others will only cover part of the cost. You may need a note from the patient's doctor, advising that the lift is necessary. The cost of a Hoyer Lift can vary greatly. The average cost is approximately $1,500, but can be much more depending on the type you choose to purchase. You can also find less expensive brands or used patient lifts, patient slings and medical trapeze bars, but you will need to make sure they are compatible with the patients needs, such as how much weight will they lift.
Buy Recommended Hoyer Patient Lifts