Slippery bathroom floors can cause major problems for many people especially elderly men and women. When a bathroom floor is slippery, a person can fall and hurt themselves severely.
The elderly or even a child can fall and hit their heads or break a hip bone if the fall is severe enough. Preventing slippery bathroom floors is essential in protecting your loved ones from becoming injured due to a fall. And since the costs of fixing a slippery bathroom is minimal, there should be little reason to delay.
Bathroom Shower Mats
There are equipment and supplies that one can purchase to help prevent things like this from happening. Shower mats are a great accessory to add to your bathroom. When exiting from the bathtub, you will be able to dry off on the shower mat. Keep any dripping water there instead of getting it on your floors and creating a slippery situation. There are even some shower mats that can be placed in the bathtub to prevent slippery situations while showering. These shower mats don't cost much. Most range in price from five dollars to twenty five dollars depending on size and shape of the mat itself.
Buy Affordable Shower Mats
Bathroom Grab Bars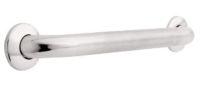 Another addition one could think of adding to a bathroom are grab bars. These bathroom grab bars can be installed inside the tub by attaching it to the wall. The bathroom bar helps you stabilize yourself to get up from bathing. You can also hold on to the bar when exiting the tub too. A grab bar can also be placed on the outside of the shower doors so someone can hold on to that as they are drying off. Grab bars are fairly cheap and range in prices from five dollars to thirty dollars depending on size, length and where you purchase it.
Buy Recommended Bathroom Grab Bars
What can cause a bathroom accident?
After someone showers or takes a bath, it is inevitable for some water droplets or puddles to form. This can occur when wiping down the excess water on your body or during the the cleaning. In addition, bathroom tiles are smooth surfaces and when combined with water, shampoos, soaps, or even baby powder, they become extra slippery. The problem with slippery floors is if someone becomes injured it could take a long time to heal or worse could even cause death if the fall is severe. There are many things in a bathroom someone could hit their head on if they fall. A bathroom cabinet, bathtub, bathroom sink, toilet and even the floor can cause major problems for someone who falls on a slippery floor. These potential bathroom accidents are also amplified by poor bathroom lighting. You are unable to see the wet puddles or shampoo residue on the tiles. These problems can be improved by better lighting in the bathroom.
Bathtub Safety Treads
Inside the bathtub, it is also easy to lose traction and cause a big slip and fall. Most bathtubs do not have a gripped surface and so excess soap and shampoo that spill on the ground will make the tub surface very slippery. Safety treads provide grip where ever you need it most.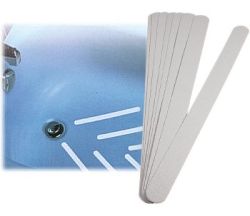 Simply adhere the sticky tub safety treads to the bathtub surface in places where you most need it. The head of the tub where the water controls are, is a good spot. Place them also in any place where you will be standing when showering.
Buy Recommended Bathtub Safety Treads
By taking simple preventive measures like buying shower mats, safety treads or grab bars, this will ensure your bathroom stay safe and secure so that no one becomes injured from wet floors. It's better to spend a little extra money then to lose or have an injured loved one from a fall that could be prevented from the start. Remember, bathrooms are one of the places that most injuries occur.