Safety should be the number one priority for both client and caregiver, whether it is within the home or in a facility. More families have chosen in home care over nursing facilities, either for financial or personal reasons.
A great asset to assist in a daily routine is a handicapped transfer gait belt. They may also be referred to as gait belts, transfer belts or transfer slings, and come in a variety of sizes to fit each individual accordingly.
Gait Belts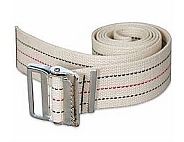 Although they are somewhat similar, there is a difference between them. Gait belts go around the waist the same way a regular belt does. The belt goes around the individual and can be used to steady the person, help with walking, help lift them up, or transfer from one location to another. This provides the caregiver something to hold on to when assisting a client out of a chair, making the transfer smoother and giving less strain on the caregivers back. In the case where balance has been compromised, this will also help with walking, especially if the person tends to side step at times. As you can see from the images, it is a simple handicap equipment that has a multiple uses. Below are some best recommended lifting belts for the disabled and elderly.
Transfer Belts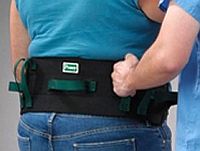 Transfer belts are a little different than a gait belt. They are used primarily in moving a person from their bed to a wheelchair or to assist with walking. Use the transfer waist belt to help lift disabled people. They are similar to a gait belt, but provide handles to hold on to. Some of these transfer belts are also known as Posey gait belts or Posey transfer belts.
When buying a transfer belt, make sure to find out that fits the waist of the individual you are trying to transfer and that the lock release mechanism is simple enough to open and close. Find one that has a simple click feature to release the lock but is sturdy enough to support the weight of the person.
Buy Recommended Transfer Belts
Transfer Slings
Transfer slings fit lower on the body, providing assistance behind the knees up to the lower part of the back. This help with gaining a momentum when lifting out of a chair that a person may not have on their own to complete a standing posture. Transfer slings are used with Hoyer lifts to move heavier patients from a bed to a wheelchair or transport wheelchair.
When using such equipment, make sure it is free from any fraying or tearing to prevent injuries. Proper posture is very important to prevent back injuries. Learn how to properly transfer someone with belts or slings before you try it, so you know how to adjust and position your body for safety of both people. Any nurse or therapist should be more than happy to assist you with learning the proper techniques on how to transfer someone.