Handicapped bathtubs also known as walk in tubs are special types of bathtubs that cater to the needs of those with limited mobility issues.
They can help those who have trouble bathing and can restore dignity and self reliance to their bathing routine. These are bath tubs that have a door at waist level, a low curb, a built in sitting area, and many bathing options that include massaging water jets, extendable shower head and grab bars. Bathing, can once again, become that enjoyable and safe experience you remember.
Handicapped tubs are tubs that you can walk into and are quite convenient for elderly persons. The bathtubs can reduce the chances of slipping and falling while standing. The handicap tubs also eliminate that first step over the curb where someone who has trouble raising their leg might have a lot of trouble getting in.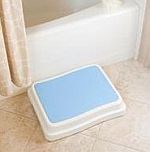 If you are looking for cheaper alternatives to stepping over the curb, consider the combination of grab bars and bathtub steps for walking in and out. Place grab bars near the entrance for support and the bathtub steps to make the height of the curb less intimidating. These steps for the bathtub can also be stacked securely for extra height. First step adds 4 inches. These simple solutions can make the bathtub experience a lot more accessible and convenient.
Walk in Tubs Models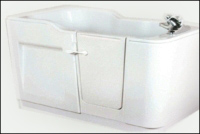 There are many different models of walk in tubs, but they are basically designed with a door that can be easily open and closed. You can choose the door to swing out or swing into the tub. Then you simply walk into the bathtub. The door is able to seal shut while the tub is filled with water. Water does not leak out. There are soaking models that allow you to lie in an inclined position, and there are models of walk in bathtubs that allow you to sit up while being fully immersed in a comfortable tub of water.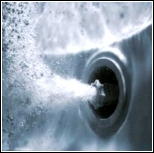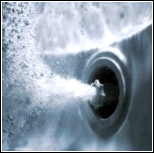 Handicap bathtubs are all equipped with non-slip surfaces on both the floor and the seats to reduce slip and fall injuries. Some have handle bars or grab bars located on the sides for added control and stability. If you have problems with circulation, joint aches or muscle soreness, there are therapeutic whirlpools that create a similar sensation to a Jacuzzi or hot tub. It is like having your own handicap accessible bathing spa that you can use after a long day of work. Not only can the handicap tubs allow for easier accessibility, it can also help you relax.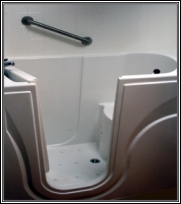 Being able to walk in and out of a bathtub makes bathing so much safer and simpler for those that have mobility issues. Previously, most people would purchase a tub transfer bench to get over that curb. Owning a handicapped bathtub would prevent many possible accidents that could otherwise occur with a traditional bathtub. There is only a small step in and out of the tub. The process involves opening the door, sitting on the chair placed conveniently at the entrance, turning your body and legs into the tub and then shutting the door. Some models have low curbs so one does not have to raise their legs and knees high in order to walk inside. This allows people with mobility issues to live alone and bathe themselves independently and safely.
Handicapped Tub Installation
It is a rather simple installation to put in a handicapped bathtub. The drain and the tub must be aligned and there must be appropriate spacing for the tub. There is also a sealing process that appends the handicap tub to the floor. Although simple, most people choose to have a qualified installer put one in their homes.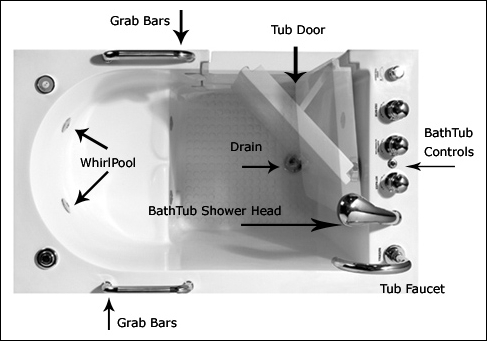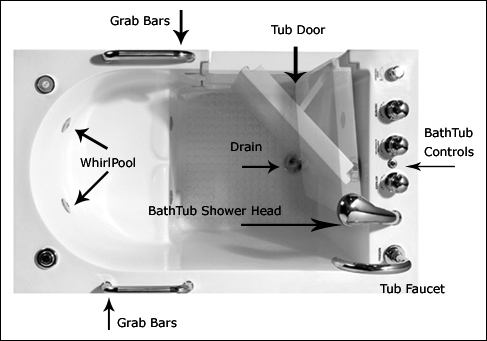 Handicapped bathtubs take up the same amount of room in a bathroom as a traditional tub. This makes it convenient because no special arrangements or changes will need to be made to the location. When people decide to install their walk in bathtubs themselves, they are given a step by step guide to get the job done right. If you have the handicap bathroom area properly laid out and cleaned, the installation should take no longer than one day.
How much does a handicapped tub cost?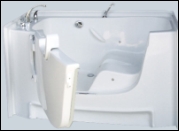 Many handicap bathtub retailers will offer discounts and coupons if you fall into a particular group such as a veteran or employee of a major company. They will also offer financing and break the payments up into manageable plans. The cost and price of retail handicap bathtubs will usually range from $1500 to $3000 or more. The better handicap tubs will cost in the $6000 to $8000 range. The reason for the price differences is due to customization and many added features such as massaging water jets.
Buy Best Recommended Handicapped Tubs
Does Medicare Pay For Handicap Bath Tubs?
There is no guarantee that Medicare will pay for this item. However, when it is a medical necessity, this cost can be partially covered by private medical insurance. If there is a proven medical need for someone to own and use a walk in bathtub, some or all of their costs for ADA accessible bathtubs may be covered by their private medical insurance. They would need to review this possibility with their doctor and insurance carrier. Additionally, the doctor must document and show the medical necessity for the handicap tub rather than as an personal convenience item. Contact a supplier for more information on pricing and handicap tub options.