There are several kinds of walkers available on the market to assist seniors, the elderly and those with mobility limitations. The standard handicap walker has four adjustable legs and rubber plugs attached to the bottom of the legs.
The standard walker is the most stable and is the safest to use. The front wheeled rollator transport walker is similar to the standard walker, but it has two wheels attached to the front legs. The rolling walker has wheels attached to all four legs. Rolling walkers also come equipped with hand brakes for safety and stability. The front wheeled walker is the least stable because it does not have brakes and it is possible for it to get away from the driver. All of the walker types have a variety of walker accessories available for convenience and to enhance mobility and independence. Here is a list of handicap walker accessories to add to your personal walker.
Walker Baskets
Walker baskets come in a variety of sizes and attach to the front bar of the walker. The mobility impaired person is able to transport everyday items from room to room or when out and about, increasing their independence.
Walker Lights
Small handicap walker lights can provide enough brightness for a dimly lighted hall or room to help avoid stepping on objects. They can be easily attached to the side or front of a walker with a clip or clamp.
Walker Bags and Pouches
Walker pouches are a low profile alternative to walker baskets. The walker pouch is thin and does not hold as much as a basket, but can act as a wallet or purse when going outside of the home. These are the perfect pouches to place on the front, side or back of a walker. It is usually made of nylon and attaches to the front bar of the walker.
Walker Leg Attachments
Walker Glides
These walker glides allow an individual to glide their walker across a surface instead of lifting it. They are like sled feet or skis for your handicap walkers. Once installed, walkers can be pushed across carpets or rugs and other flat surfaces such as wooden floors.
Large Walker Wheels
A large wheel attachment for your walkers can help to maneuver through uneven surfaces like a rug on a hardwood floor.
Walker Cup Holders
This walker cup holder attaches to the side of the handicap walkers and can be folded up after use. The cup holders expands to fit various beverage and cup sizes. Does not spill drinks and holds small soda cans and ones up to a 64 ounces.
Walker Trays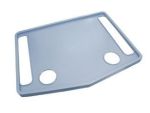 With walker trays, you can use the walker like a desk for writing or table to eat. The walker attachment is easily installed and will lock into place. And once you are done with the hard surface, you can remove it and clean off any mess.
Walker Rest Seats
The walker rest seat is a valuable accessory, providing an instant available seat, when needed. The walker rest seat is available for the standard walker, and nearly all of the rolling walkers come with a rest seat and locking hand brakes to prevent movement. It provides many people with the added security that they need when outside the home doing errands, shopping, or going to work.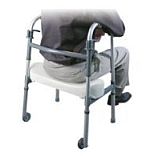 Customers can purchase all of these walker accessories and more, at medical supply stores, pharmacies, large discount stores, internet medical supply websites and online marketplaces. The best deals, as well as the best recommended products to buy, are usually found in online retailers.