Put a couple of surrounding walls around a shower-head spray and you have got a walk in shower enclosure. It sounds like one simple idea but the benefits are many.
The main benefits of handicap walk in shower enclosures and stalls are the accessible entrance and a wider showering area. Those in wheelchairs, seniors who have trouble stepping over the edge or someone who wants an accessible shower renovation for their bathroom, are the best candidates for these handicap walk in shower enclosures. These shower enclosures are universally designed to be usable for all ages and abilities.
Walk In Showers
When planning to buy handicap walk in shower enclosures, it is easy to get overwhelmed with the choices available. Let's examine all the choices and options.
Color – If you are interested in a clear glass enclosure, then the color that you should be focusing on is the bathroom tiles. There are frosted glass choices which creates a semi-transparent stall so someone else can be in the bathroom when you take a shower without being revealed. And, glass block walls are also an option. These are semi-transparent glass blocks that stack on each other like bricks forming a shower wall. There are also walk in showers without glass enclosures. This creates the ultimate open shower environment.
Materials – Handicap walk in shower enclosures provide a contemporary look to your bathroom. You can choose between the common materials like glass, fiberglass or acrylic. Other choices include leaving only one opening and tiling the rest of the 3 sides. As long as the shower spray is positioned in such a way where the water sprays are retained inside the shower pan base, then having an exposed door free entrance gives a very modern look.
Designs – Hinged and pivot shower doors are designed like a door that you swing open into your shower. These enclosures require a bit more consideration for spacing. Sliding doors are great if you have some obstruction blocking the swinging door action. In the same family of sliding doors, there are bifold shower doors or folding shower doors that slide on a track and fold down in the center of the enclosure.
Walk in shower enclosures come in various shapes such as squares, rectangles, curved shapes, and you can custom shape the stall yourself. But remember, curved glass is much more expensive compared to flat glass.
Sizes – Rectangular walk in shower enclosures will typically measure around 30 inches by 46 inches. If space is a problem for you, there are square small walk in shower enclosures that measure 36 inches by 36 inches. These enclosures and stalls can be easily installed in place on the corner.
Handicap Shower Accessories
Since handicap showers are still slippery, add a few grab bars on the walls for added support and some slip resistant mats on the inside and outside of your shower enclosure.
For more refreshing options, add some shower sprays in the middle of the enclosure to lightly mist your body. It will feel like you are near a waterfall or a lawn water sprayer.
Add a shower seat or chair if you get tired during a shower. There are plenty of small sized chairs capable of supporting 250lbs and more.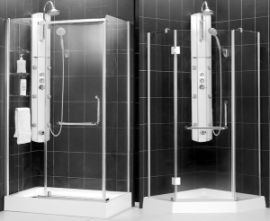 Handicap walk in shower enclosures also allow you to get rid of shower curtains because the wet environment is now enclosed in a stall. No more need to clean or replace shower curtains.
Costs of Walk In Shower Enclosures
Walk in shower enclosures can range in $300 to $1200 and over in costs. Fiberglass and acrylic materials will tend to be cheaper in costs but the aesthetic appeal may be less. Fiberglass walk in shower enclosures and stalls are best suited for those who focus more on the curbless shower entryways rather than aesthetics. Although fiberglass shower enclosures can be beautiful, glass shower enclosures is definitely the material to seek if you want that wide open space feeling. Just make sure to keep the glass clean.
Purchase a walk in shower enclosure at many online retailers or at your local Home Depot store. With all the information just provided to you, you should feel more confident in remodeling or building a new addition to your bathroom.