A handicap pedestal sink is not only pleasing to the eye but is an absolute necessity for a person in a wheelchair.
This wheelchair-friendly sink allows people with disabilities to enjoy the basic right to have access to good hygiene practices such as washing hands, brushing teeth, shaving and washing faces. They are able to roll up close to the pedestal sink and not worry about exposed pipes or splashing water on their laps.
Most bathrooms in American homes have vanity-dresser sinks which are not wheelchair friendly because of the dresser underneath. The vanity dresser obstructs a wheelchair from sliding under the sink, thus preventing the user from getting access to the sink. Certain vanity sinks may be installed more than 34 inches high from the floor, making it hard for a person sitting on a wheelchair to use it. For someone who wants vanity sinks, getting a wall hung vanity sink with the pipes covered is the best option.
Why are Pedestal Sinks Useful?
Handicap Sinks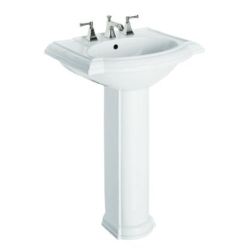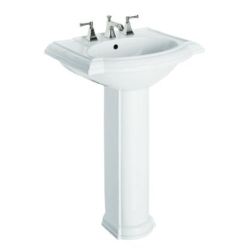 Pedestal sinks enable persons in wheelchairs to independently brush their teeth, shave or look after their own physical appearances in a wheelchair bathroom without having to seek assistance from their families or loved ones. This facility is incredibly liberating and can certainly enhance the quality of life for a wheelchair bound individual.
However not all pedestal sinks are manufactured for people with physical disabilities. Some even interfere with the footrests of some wheelchairs. Handicap pedestal sinks have specific measurements and designs specially catered for people in wheelchairs. The Americans with Disabilities Act (ADA) has provided guidelines for manufacturers of pedestal sinks to follow specific measurements when making and installing units meant for individuals with physical disabilities.
Pedestal Sinks ADA Height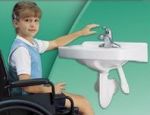 According to ADA, handicap pedestal sinks should be not more than 34 inches in height and have a knee space of at least 27 inches high, 30 inches wide and 19 inches deep. The handicap sinks should be at least six-and-a-half inches deep and there should be about 4 feet of turning space in front to enable the user access to the sink. The pedestal should adequately cover drain pipes, hot surfaces or sharp edges under the sink to protect the user from any contact with them. Most already come manufactured with pipes and plumbing hidden from view.
Also make sure that the pedestal is thin enough to fit between the wheelchair user's legs and feet. Pedestal sinks come in various colors and faucet designs such as lever-operated type, push or touch-types or electronically controlled type, which are all approved by ADA.
Buy Handicap Pedestal Sinks
A handicap pedestal sink fits perfectly in a wheelchair accessible bathroom. Alternatively, it can also be installed in an ordinary bathroom located near the user's bedroom. Like an ordinary sink, it can be utilized by other occupants in the house especially when other bathrooms are occupied. Make sure to buy a pedestal water basin in addition to your pedestal that fits the decorum of the room and your needs. An average cost per unit ranges between USD 250.00 to USD 400.00 depending on the size and dimension required. Check out some of the best recommended pedestal sinks for wheelchairs users.