Individuals who suffer with handicaps are at a disadvantage when finding comfortable sleep options. Lack of general mobility and freedom of movement can prove difficult for those who suffer with bodily handicaps due to injury or illness. Finding healthful sleep positions is a vital part of the recovery process and comfort for those who suffer with handicaps. There are handicap beds and disabled bed aids to improve one's recovery process and assist in restful sleep.
Since handicap beds are used to assist handicapped individuals with their movement and placement of their bodies before, during and after sleep, various types of quality handicap beds should be considered before deciding upon just one.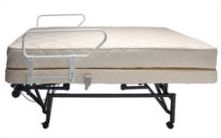 Some needs which should be considered are:
General mobility of the individual
Specific type of handicap
Bodily functions
Required medical equipment (handicapped equipment)
Size and weight of individual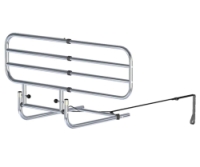 Many handicap beds are adjustable, which offers the user various options, to assist with independent movement. These beds which raise, lower and define specific positions due to user control are ideal for those who wish a more independent life as free from nursing assistance as possible. If the user has upper body mobility, an adjustable bed for handicap use which is controlled with a hand held remote should be considered. Additionally, by having a Hoyer bed lift nearby, the individuals can get in and out of bed easier.
Recommended Handicap Bed Products
If you cannot get a whole handicap adjustable bed, here are some handicap bed products that can make laying or sleeping in a bed easier and also help getting in and out of the bed simpler. Buy the one that meets your needs.
Easy Adjust Bed Rail – Easily attaches to the bed frame and becomes a bed rail that is adjustable from 26 to 42 inches. Supports weights up to 400lbs and can be easily folded down.
Bed Pillow Wedge – For someone with shoulder or neck pain, acid reflux problems, snoring, allergies or breathing problems that occur when you are laying flat down, a simple bed wedge pillow can relieve those ailments.
Bed Lift and Angling System – Transform your original mattress into an adjustable bed and raise or lower the mattress to your preferred sitting or sleeping angle. Maximum angle is 40 degrees or roughly 26 inches. It supports weights up with 1000lbs. Users have said this product has helped in preventing acid reflux at night.
Adjustable Bed Rail – Adjustable bed rail that is simple to install with a foam cushion grip. Supports 300lbs of weight.
Adjustable Handicap Beds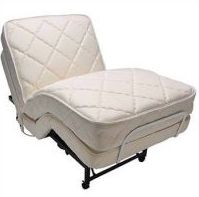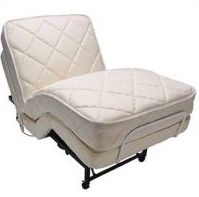 Some adjustable beds for handicap users are also ideal for those who have full mobility but suffer from certain sleep disorders or more minor physical ailments. Problems such as joint diseases, back aches, chronic breathing difficulty such as sleep apnea and COPD have been helped by the use of a handicap bed. Adjustable beds also offer height adjustment preferences. Lower the bed to get off the bed easier and raise it to reach the heights of handicap walkers, wheelchairs, or other mobility vehicles.
Adjustable Bed Risers
Sometimes a bed can be so low that it is hard to get onto and get out of the bed. When this happens, there are adjustable bed risers that can add anywhere from 1 inch to 8 inches to the height of the bed. Additionally, with an elevated bed, you can store things underneath.
Bed Rails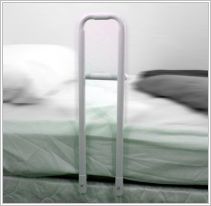 For those who suffer from restless sleep disorders such as night terrors or sleepwalking, a handicap bed complete with rail system can prove beneficial in preventing falls and tumbles from bed while still asleep. Think of these bed rails as grab bars supports for your bed. There are also double sided bed rails that protect your loved ones from falling on either side of the bed.
Bathing in Bed
There are bed bathing aids that help those who are immobile in bed and are unable to bath themselves. There are hair washing basins that can be placed under the person's head, while a caregiver applies shampoo and water, and will keep the bed free from water.
No Rinse Shampoos – If you need to clean and wash someone's hair in their bed, consider no water necessary shampoos that can be applied and towel dried off. Great for camping trips and stays at the hospital.


There are also inflatable plastic bathtubs that can be placed on a bed. The person rolls onto to the deflated tubs, air is pumped into the tub and then water is placed inside.
Some insurance benefits may cover the cost, entirely or partially, depending upon the physical need and financial assessment of the handicapped individual. These beds and bed bathing aids can assist the user to have a more independent life and more comfortable and restful sleep.