Handicap Bathroom, Handicap Bedroom, Handicap Equipment
When someone is handicapped and needs some extra help, it is helpful for them if they can find handicap bars that have been installed in different places to assist them. These bars are frequently found in restrooms and along walkways in public places, but people can also have them installed in their homes to ensure safety while moving around the house.
Handicap Bars for Bathrooms
Having a handicap bar in the house will allow someone to grab onto the bar to prevent a fall. One of the most common places for these bars is the bathroom, where the floor is often slippery. Buy handicap bathroom bars for yourself, friends and loved ones.
Buy Bathroom Grab Bars
Handicap Shower Bars
They can also be installed in showers and prevent many falls, giving people something to grab onto while climbing in and out. A wet environment is a dangerous place for anyone who has trouble stabilizing their lower limbs. These shower grab bars are capable of supporting weights upwards of 250lbs to 300lbs.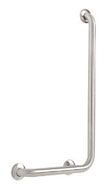 Angled Grab Bars
Particularly effective for the shower environment are angle grab bars that can be horizontal, vertical and diagonal at the same time. You can find them with 90 degree right angles or greater than 90 degrees with obtuse angles. They are very convenient for someone who needs grab bars at various angles.
Buy a Stainless Steel Angled Grab Bar
Bathtub Handicap Bars
Entering and exiting the curb of a bathtub used to require unsteady lifting of one leg and using anything else as a stabilizer. For many reasons, this proved to be quite dangerous and it was only a matter of time before slips and falls occurred. Handicap bars in bathtubs has changed that whole process. By equipping bathtub grab bars on the side or alongside the walls of the bathtubs, one can use that as a stabling device and safety enter and exit a tub.
Handicap Toilet Bars
A lot of people install handicap bars on the edges and sides of a toilet for extra assistance. They help when someone needs to sit down and when they need a toilet bar to get off the toilet seat. They are also known as toilet safety rails or toilet side rails and are a necessity for the elderly and disabled.
Handicap Bars around the Home
The location around or near the bed makes for a great place to install handicap bed rails; which is used as a transferring and support bar. This is the most affordable bed transfer equipment one can buy.

People can have long handicap rails put in throughout hallways to make the walk easier; it is like having stair railings along the whole wall! Hallway railings also help the elderly move around their home without the assistance of a caregiver. Other useful places in the house to have handicap bars are any of those areas that do not have good sources of light, such as garages or basements. Handicapped railings and handicap bars in one of those places will give someone the confidence they need to get around easily. They can be installed anywhere around the house that someone would like to have them. An unconventional area that people can install handicap bars is on the armrest of chairs, thereby creating a simple handicapped chair. This is especially useful for people who experience fatigue or pain when lifting their body off the chair.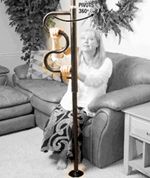 Floor to Ceiling Pole Grab Bar
A floor to ceiling handicap pole bar or a security pole bar can be positioned near a chair in the living room to help those who have trouble standing up from a chair. There is no need to screw nails into the floor and ceiling either. Rubber padding on both sides of the mounted pole limits the amount of damage to the house. The handicap pole reaches ceiling heights of 7-9 feet and 10 feet with the extend-able optional pole. These are great alternatives to wall to floor handicap bars.
The above handicap security pole is also sold here (Security Pole and Curve Grab Bar in Black)
and may be more affordable. If you are looking for a sturdy floor to ceiling grab bar that can support more weight, consider the bariatric super poles.
Handicap Bars Cost
People can buy handicap bars to install in their homes for a reasonable cost, starting at around $25 dollars. There are many styles so one can be found to suit the decor of someone's home. Of course there are the typical shades of metals, but there are also colored bars on the market. The quality of someone's life can be increased a great deal just by knowing that they have these safety bars around to help them. That assurance will give these people the confidence they need to do their everyday tasks without fear of a fall.
Tags: Angled Grab Bars, Floor to Ceiling Grab Bars, Hand Railings, Handicap Bars For Bathroom