Weaken physical strength in their lower limbs, reducing pressure on the knees or needing an extra leg of support are all reasons why someone would get a cane.
The elderly and senior population is not the only individuals who require the use of these devices. Many people who recently had surgery and have been told to reduce the pressure on their knees and joints will be given a cane for everyday use until they recover. The canes have prevented many falls and injuries to people by adding extra support and balance to those who are afflicted.
Canes Make Great Walking Sticks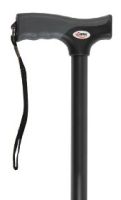 These canes provide mobility for the individual and can greatly increase the feeling of independence to them. They are able to move as they need to around the home, doing everyday tasks that they did before they had to use the cane. Canes prevent many falls and injuries from happening. They are also great walking sticks and can add a certain flair to some dress attires. Millions of people rely on them for the extra support. They offer self-sufficiency and the opportunity to be active in life and possibly aid in their own recovery. Canes can provide a wonderful feeling of self-reliance and freedom to so many people. Be sure to check out the other handicap walking equipment that can support and reduce more weight off your hips, legs and knees.
Recommended Canes and Walking Sticks
Tips For Walking Canes

Most canes are maintenance free. Just be sure the grips are in good shape and not slipping. Canes allow for balance and weight bearing. Be sure to pick a durable and well built cane. Some walking cane accessories include a cane wrist strap that can keep the cane by your side when you sit down. Read the user instructions to make sure that you are using it in the proper way.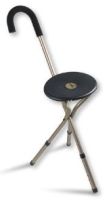 Additional tips to remember while using the canes are to stand erect and to make sure they are adjusted properly to your height. Be sure to purchase a cane that is adjustable to compensate for height variances. Grasp the handle evenly. Be sure to use the cane on the opposite side of the body that is affected.
If it feels like the cane is weakening you, inhibiting your movements or you feel it is not in good shape, please replace it immediately.
You can expect to buy forearm canes and walking sticks in prices ranging from around $20 to $50.