Keeping your feet clean is important. Dirty, rough, and sweaty feet are the perfect breeding grounds for germs and fungus. Unsightly calloused bare feet can also become a problem if left untreated.
Calloused feet can actually crack and bleed if they are not taken care of. Painful feet can be avoided with proper cleaning and care in the shower when your feet are wet. Foot scrubbers in the shower are great for cleaning your feet without extra bending or stretching. They have many other benefits as well like gently massaging your feet.
Cleaning Your Feet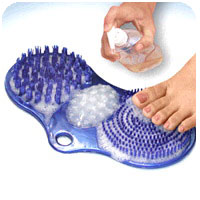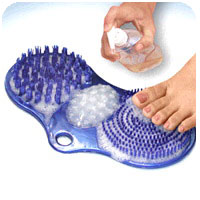 With sticky foot wash mats, you can easily clean your feet. It suction sticks to the floor, and you rub your foot along it, adding soap if necessary. If you have trouble bending over, this is a great alternative. You can enjoy clean, fresh feet without needing to sit in a bath or bend over to reach your feet.
Remove Dead Skin Cells On Your Feet
Removing dead skin cells and calluses on your feet can be done with good sole scrubbers. You can use a pumice stone or other device, but sticky foot wash mats make it so easy. Remove the rough dry skin to reveal soft, smooth skin. It's also a great massager. Cleaning your feet feels good while you scrub them like a massage, but it also helps promote healthy feet.
Who Should Use Foot Scrubbers?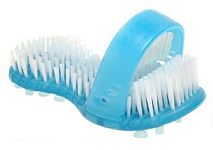 Foot scrubbers are highly recommended for the elderly because it allows them to keep their balance by sitting down in a bathtub bench or shower bench while running their feet back and forth on the scrubbers. No more awkward bending or twisting! Athletes need to keep their feet clean of moisture and fungus caused by sweating. Those who like to walk around barefoot or who frequently experience dry, cracked feet need something to remove calluses.
Basically, everyone should use a foot scrubber especially if you have hip problems, back problems, trouble with bending over or you just cannot reach the soles of your feet. Most people have trouble washing their backs so they purchase the right products for this task but foot care is often overlooked. If you do not keep your feet properly clean, you could have problems with the health of your feet.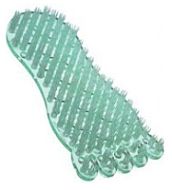 Anyone who is tired of falling over in the shower while trying to balance on one foot, or twisting awkwardly in the tub, foot scrubbers are perfect for them.
Buying Foot Scrubbers
Sandal Foot Scrubbers – Clean the arch, toes, heels, sides and bottoms of your feet simultaneously with the bristles on this shower or bathtub foot scrubber.
Foot Brushes For Shower Floors – This three in one shower foot cleaner allows you to scrub, massage and stimulate the soles of your feet. Pumice stone in the center helps to remove dead skin cells.
Sole Scrubbers Foot Mats – These bare feet scrubbers can soothe the aching soles. Put some massaging oil, liquid soap or shower gels on these foot scrubber mats and scrub your feet away. The suction cups under the mats keep them in place.
Foot scrubbers typically cost about 10 to 25 dollars, depending on the complexity of the scrubber. They are very easy to clean. Just be sure to rinse it thoroughly and let it dry between uses. This will ensure that no bacteria grow on the scrubber before you use it again.