Exercise is proven to not only lower the risks of diseases such as diabetes, osteoporosis, and cardiovascular conditions, but it also it has also been shown to improve one's overall mood and sense of well being through the release of endorphins. It can aid with the relief of pain, fatigue, cramps and stiffness.
Being confined to a wheelchair is in no way a sentence to a sedentary lifestyle. There is an abundance of easy-to-care-for exercise equipment for wheelchair users such as hand cycles, resistive tubing, and free weights. Exercise equipment is readily available to help wheelchair users maintain active, fit, and healthy lives.
Hand Cycles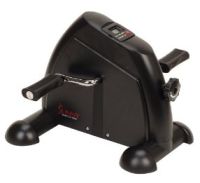 Hand cycles are a form of closed chain, low impact aerobic machinery that strengthen and improve cardiovascular functioning while toning the muscles of the arms. Various models exist including with or without attached seats. The specific model will depend on the mobility of the user. Hand cycles can be placed on a table and used to exercise the arms. Sit on a comfortable wheelchair cushion as you exercise your upper body. The ergonomically designed handles adjust to greater or lesser amounts of resistance. These are the perfect table mounted hand bikes for the disabled. Simple lower end inexpensive hand cycles can costs from $60 to $100. Higher end machines can range anywhere from $300 to $5,000 depending on the accessories and capabilities. Check out below for some affordable and inexpensive hand cycles.
Buy Best Recommended Exercise Equipment
Resistive Tubings
Resistive tubing is an extremely inexpensive, yet versatile piece of equipment that is both portable and easy to use. Tubes can be looped around one's own body, a doorknob, a table leg, or a wheelchair for a variety of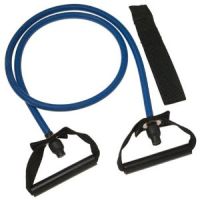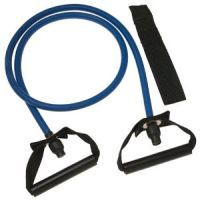 full body exercises. Resistance tubes are useful in muscle toning and conditioning. Many fitness instructors and physical therapist recommend the use of these resistance tubes if you are rehabilitating or want to build muscle endurance. Tubes typically range from $2 to $20 for varying styles and resistances. A set of tubes including different shapes and sizes would be a more economical and useful purchase.
Free Weights
Free weights are likewise one of the most versatile types of equipment used for muscle strengthening and toning. They can be used for upper and lower body toning exercises. Weights coated in vinyl or neoprene are often more comfortable than purely metal weights. They can be purchased individually or in sets with costs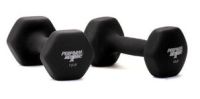 ranging from $5 for a single dumbbell to $150 for large sets with adjustable weights. Kettlebells, medicine balls, sandbags, and body bars are all useful free weight equipment to have in any collection.
Any reasonable amount of movement is good for the body and your health. Spend this exercise time to practice your wheelchair transfer techniques as well. Being in great physical shape will allow you to overcome the limitations and challenges, a wheelchair user might encounter in their daily lives. No longer will you see obstacles the same way.