For many men and women getting off the toilet can be hard and aggravating. Those who have the problem with getting up are ones that have hip, knee, back or leg problems that prevent them from moving around as they once did.
This makes it difficult to get up and down with ease. When this happens it is up to the family members to come in and assist with getting them up. A lot of times there is no one around when an elderly loved one becomes stuck on a toilet and can't get off. This can leave them feeling helpless alone and scared. This is where toilet assist equipment can relieve those fears and potentially save a life.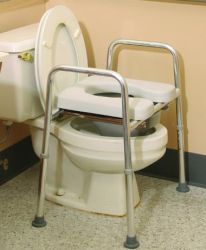 If you are wondering where you can find aids to help the elderly off the toilet, then check out some of the supplies and equipment one can purchase to prevent someone from having a hard time getting off the toilet. Local department stores, medical supply stores and online medical equipment stores have just about anything you can think of to improve someone's way of living when they have medical needs such as this. Here is just a few of these toilet equipments.
Rails For Getting Off The Toilet
Toilet safety rails are an excellent idea to have in place for someone who has difficulty getting up and down while in the bathroom. Older people and post surgical patients may need more help getting off the toilet if they lost a lot of their strength and balance. You can attach these rails to the wall on either side of the toilet or attach near the shower doors to assist with getting up. Make sure that the toilet rails you purchase can hold the persons weight and that it's attached securely so it won't pull off when the person is getting up off the toilet. These rails range in price from $15 to $30 dollars depending on length style and store pricing. In addition, there is a whole assortment of handicap bars that is useful near the toilet and also work all around the home.
Toilet Side Rails
Using toilet side rails is another wonderful option for those with difficulty getting up and down. Side rails can be placed on either side of the toilet and is easily accessed because it can be placed closer to the person. These are usually longer and thicker in diameter then other rails. It's like a hand rail in a way and in some opinions is a better option. They tend to last longer and don't pull off as quickly as other rails might. Toilet side rails are attached to a wall only. These rails range in prices from $20 to $40 dollars and again depend on length and store pricing.
Best Equipment to Help Get Off the Toilet
Here are some recommended handicap equipment to help those who have difficulty getting off the toilet. It is especially important to know the size of the rails and of the toilet. These are the best prices found online and even in stores.
Screw On Toilet Side Rails – This is an ADA complaint toilet side rails with stable 8 inch high armrests. It is also rustproof and easy to clean. Fits most standard toilets.
Adjustable Height Toilet Side Rails – These side rails can support up to
250lbs and is larger than the previous one. It is also slightly more expensive. However it is a lot easier to install and has two footrests that provide more stability.
Strong Toilet Frame With Rails – Place this toilet rail on top of a standard toilet for a sturdy support rail.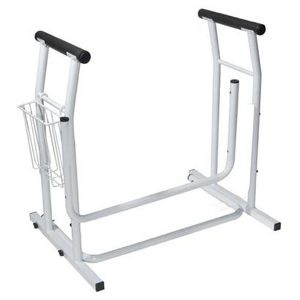 There are also elevated toilet seats that reduce the distance from sitting down and standing up. They are great to reduce strain on the knees and for those who recently had surgery on their hips or knees. Add these seats with hand rails for getting off the toilet and you have the perfect combination of safety.
The equipment and supplies you purchase to assist a loved one getting on and off the toilet is essential to their well being. It helps them to become independent when you are not around to assist them when needed. No one likes the feeling of helplessness when they are on the toilet.