For most people bathtub safety does not become an issue until they are older, injured or disabled. Households with toddlers and young children need to be aware of, and implement, bathtub safety as well.
But even an able-bodied, younger person might benefit from some precautionary bathtub safety equipment. The bathroom is one of the most dangerous rooms in the home in terms of household safety, and thousands of slippery bathroom floors and bathtub accidents occur each year in the United States. It is easy and relatively inexpensive to install a few products that make your bathroom more safe and sound, for you and your houseguests.
Bathtub Safety Bars and Handrails
Do not wait for an injury to install bathtub safety bars or handrails in your shower and bathtub. Even if you do not have an immediate use for these, handrails may be of benefit to a toddler, child, or older houseguest. Handrails and bathtub grab bars can help you safely enter and exit the bathtub, and have been found to reduce accidents in the bathroom. Install the bars yourself, or have someone install them for you to make sure they are securely placed for optimum safety.
Bathtub Safety Treads
Stick-on treads provide traction to prevent slipping in the bathtub or shower. Nowadays, safety treads are available in many colors and styles to complement your bathroom decor. Place the treads on the bottom of your dry bathtub easily and within minutes. They can be applied like bathtub stickers or decals.
Bathtub Mats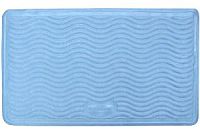 Bathtub mats are another inexpensive way to make your bathtub and shower safer. When there is an excessive accumulation of soaps and shampoos on the floor, this can result in a slip and fall. Safe bathtub mats can add more footing and give your feet some extra grip in an wet environment. This is also a bathroom product available in a variety of colors and styles so that they match the rest of your bathroom.
Grab bars, handicap handrails, safety treads, and mats may be purchased at any major department store and come in a wide range of prices. Most large bathroom retailers also sell these important home safety products. Be preventive in bathroom safety by making sure you have these features in your household.