Most seniors want to live a dependent lifestyle, but there are many factors that get in the way. They may have arthritis, balance problems, hip pain, and leg pain just to name a few of their problems.
All of these factors have one thing in common. They can make it difficult for the elderly to sit down or get up from a chair. Comfort chairs for the elderly make it easier to get out of  sitting or standing and makes their lives less complicated.
Comfortable Chairs For The Elderly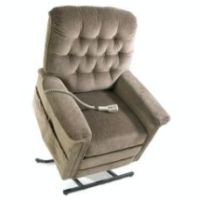 There are several different kinds and styles of comfort chairs. There are lift chairs, reclining chairs, massaging chairs, and high back chairs for the elderly. Each one of these chairs can aid the elderly and help them to be more comfortable and safe.
Lift chairs make it easier to stand or sit without any assistance. These are the safest chairs for the elderly to get up and sit down in because they do not add extra strain, have the most stability and the device does all the work. Lift chairs also have electronic devices for the backrest and footrest for maximum comfort. There are simple models and there are the more extravagant models. Lift chairs come in different colors, and different sizes, small, medium, large, extra large, and bariatric. Some companies will custom make the chair to fit you.
Recliners can also have a lifting device. These chairs allow you to change so the person is not stuck in the same position all the time. Some of these chairs come with massage pads, heating pads, or both. The massage chairs can benefit those who suffer from back ailments, or just help the person relax. There are even recliners that can turn into a bed.
The high back chairs are good elderly chairs that give good support for their backs and armrests to aide them in standing up. They also look classy and are easy to clean.


If you just require assistance standing up, chair grab bars can help you. Slide the device under the couch or chair and you can have a sturdy grab bar right in front of your seat to push yourself up.
All of these chairs and stand up aids vary in cost. Medicare will usually pay for the device that lifts a chair, but not for the chair itself. There are a lot of different chairs, and a large range in cost. Keep in mind, though, that these chairs can help prevent accidents, keep people safe and comfortable. It may be well worth spending a little more.