When you have difficulty navigating and standing up in your home environment, you might consider purchasing chairs to assist you throughout your home.
Shower chairs, wheelchairs, and lift chairs are a few of the items that can make living independently simpler. If you want chairs that lift you up and make standing a bit easier, then these assistive chairs are for you. Here are some tips to help you find the best chairs for your home, and what to look for in a chair.
ADA Standards For Chairs That Lift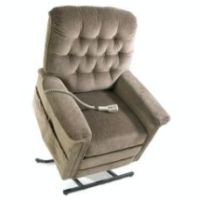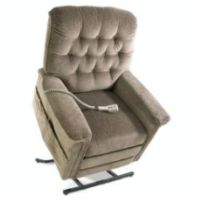 One of the first things you need to consider when looking for a chair to assist you at home is whether or not the chair meets your private needs or the requirements set forth by the ADA, or Americans with Disabilities Act. The next question is what environment will I need this assistive chair. Pictured to the left is a lift chair that works best in a living room or great room. In the shower, it is recommended that shower seats be installed within three inches of the shower door. This allows for easy entry and exit. The shower chairs should also be able to support at least 250 pounds.
Buy Recommended Assistive Chairs
Three Position Lift Assistive Chairs – Great chairs that help you stand up for the living room, bedroom or great room. They might even be good for a dining or kitchen room if you can keep the crumbs off the chair.
Another common type of chair to assist you is a scooter chair, which is a motorized chair that can easily help you maneuver through your home environment. Generally, you will need to have a handicap ramp installed to take the chair in and out of the home. These motorized chairs must also meet the ADA standards and be 38 by 40 inches, and when combined with the weight of the person must weigh less than 600 pounds. The exception is bariatric wheelchairs and motorized chairs, which are able to support more weight.
Seat Lifts For Chairs
Lift chairs and seat lifts are manufactured to recline to a desirable position or give the user a boost off a chair. With a built in lifting mechanism at the foundation of a lift chair, users will not have to bend their knees and hips at shorter angles in order to sit down or stand up. This reduces strain and helps lower rehabilitation time.
Benefits of Chair Assist Devices
One of the main benefits of having a chair to assist you in becoming more mobile is that you can enjoy life more. You will not have to worry about being unable to walk through your home, get off a chair or stand in the shower. Your disabilities do not have to limit the activities that you do in your own home if you have a few assistive devices to help you.
Millions of people with disabilities use chairs to help them in the kitchen, to assist them in the bath or living room, or even to help them go out and shop for themselves. You can be one of these independent people if you have a chair to assist you.