Filed under Handicap Equipment, Wheelchair
There is a wide variety of fingerless wheelchair gloves which can make for extremely comfortable wear. Most fingerless gloves come with a high degree of customization and one can choose from padded palms, different kinds of material, with or without knuckle holes and so on for maximum comfort and grip.
Benefits of Fingerless Wheelchair Gloves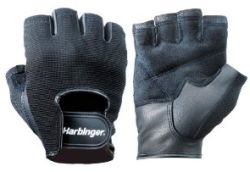 Fingerless wheelchair gloves offer extra grip and dexterity in managing a wheelchair. It is important to have a high degree of driving control and these gloves can deliver the same. Apart from indoor use, such gloves can also be used in outdoors and in wet and cold weather too. A wheelchair glove will help the wearer grip the rim of the wheel and retain a firm grip. Such gloves can also help prevent abrasions and calluses. Fingerless gloves are also used by golfers, cyclists and weight lifters as well.
Among the list of possible wheelchair accessories, like a lap tray and a ramp, wheelchair gloves are also extremely essential. They come in different sizes, like regular gloves, and also in combination of materials. For instance, some of them have a crocheted back and leather grip. They also come in material like suede, leather and deerskin.
It is important to measure hand size correctly to get the right pair of gloves. It is best to measure by wrapping the tape around the widest portion of one's hand. It is recommended to make a loose fist and then note the measurement. Gloves sizes vary between Extra Small to Triple Large and most good companies will also have a measurement guide listed on their websites and therefore one can choose the correct pair and the preferred color as well.
Cost and Maintenance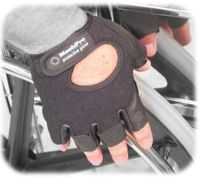 Depending on the material they are made of, the cost of the gloves can vary from $10 upwards. For instance, a pair of foam padded leather gloves with basic Velcro straps and hooks for fastening can come at around $20. For more sophisticated gloves, which may even come with gel pad inserts, the cost might go up to around $60.
Maintaining wheelchair gloves will largely depend on the material they are made of. Materials can range from Lycra, spandex to leather and for each of them simple swabbing with a damp cloth is more than enough to get rid of dirt and grime. Some of these gloves are also capable of being washed in a washing machine. When not in use, it might be helpful to hang them to get some air and sunshine. This will enhance durability and life of the gloves and get rid of any odor that they may have.
Tags: Wheelchair Travel
Filed under Wheelchair
Wheelchair trays have many benefits whether one is confined to a wheelchair regularly or must use one from time to time. These trays make reading, writing and eating so much easier especially there are no portable tray tables around. There are many different styles and price ranges of trays, and the type selected depends on the needs of the user.
Removable Wheelchair Lap Trays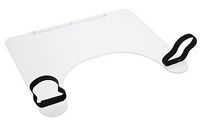 Removable wheelchair lap trays fit across the entire lap and come in many different materials and styles. Some have hook and loop straps and others have clamps or slide mounts which hold the tray securely onto the wheelchair but also make removal of the tray easy and convenient. These trays are either made of some type of hardwood or padded with a foam and vinyl cover.
There are trays which go straight across the lap and others that are cut in a semicircle or half moon shape in order to bring the tray up close to the user, at the same time allowing for maximum comfort. Some of these have rims to keep items from slipping off the tray. Depending on the features and sturdiness of the tray, prices can range from $25 up to around $100.
Universal Wheelchair Trays – Large surface area for reading, writing and eating. Hook and loop straps keep this wheelchair tray in place and also makes it universal to fit most wheelchairs arms.
Padded Half Lap Boards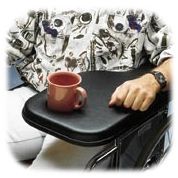 Padded half lap boards are generally designed to simply be a comfortable arm rest and work well for holding a book or possibly a drink when you don't have other wheelchair accessories. These trays can come in a comfortable padded style and some have a convenient cup holder built right into the tray. They are permanently attached to the wheelchair but can flip up and out for easy access in and out of the wheelchair. They are available for the left or right side and cost from $100-$200.
Padded Half Lap Boards – These padded half lap wheelchair boards are great as armrests and trays. When you need it out of the way, simply flip it up. There is also a built in cup or drink holder.
Flip Away Wheelchair Armrest Trays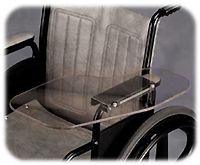 Probably the best of both worlds are the flip away wheelchair armrest trays, which are generally a little larger than the padded half lap board. These also allow one to get in and out of the wheelchair without having the inconvenience of removing the tray. The trays can be made out of durable clear polycarbonate, which is a barely noticeable attachment to the wheelchair. The clear strong plastic allows caregivers and wheelchair individuals to see their laps and legs. These trays normally run $100 and up.
The Convenience Of Wheelchair Trays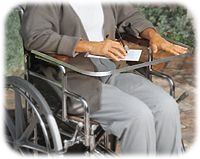 Although efforts are constantly being made to offer greater convenience to wheelchair users in public, there are times when tables are not always easily accessible. This is what makes a wheelchair tray a good solution to this problem, particularly a flip-away type. Whether one wants to sit and read while enjoying a cup of coffee, or simply needs to sign something or write a check, the benefits of these trays for use in the home and away from home are many. The wide selection can be conveniently viewed and purchased on the web.