Getting a good night's sleep is essential to optimal health. Ironically, sometimes it is our health that keeps us from getting a perfect night's rest.
Those who suffer from chronic diseases such as back pain, neck pain, circulation problems, heart burn, hiatal hernia, fibromyalgia as well as various other body discomforts can find a restful sleep nearly impossible. Pregnancy and surgery recovery can also get in the way of a peaceful night. Fortunately, there are bed rest aids and after surgery pillows available to assist in providing soothing comfort and total relaxation to lead one to blissful respite.
Foam Pillow Wedges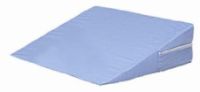 One of these essential aids is a foam pillow wedge. These wedges gently elevate your head and help support your back and take pressure off your spine. The gentle incline serves to make breathing easier and circulation better. They also help from keeping the body from shifting. Foam pillow wedges mold easily to your body and allow for better air flow.
After Surgery Pillows
One of the rehabilitation and recuperation measures after surgery is to reduce the swelling and ease the discomfort on the affected area. So whether you had ACL surgery, hip replacement, heart or abdominal surgery, please be sure to use after surgery pillows.
Leg Wedges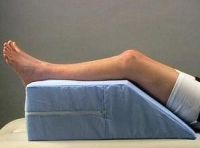 Another invaluable aid for restless, pain-ridden sleepers are leg wedges. Like the pillow wedge, a leg wedge serves to elevate, in this case, the legs which will be provided with pressure-free relaxation. These leg wedges take the weight off of the back, pelvis, hips and knees as well as help reduce swelling in the legs and ankles. They also serve to ease leg muscle cramps. And, these wedges are perfect for pregnant women, those who need after-surgery recuperation as well as for those who suffer from chronic pain in their lower body.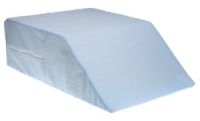 Feeling good has never been easier or more affordable. Both of these wedges are portable, easy to care for and priced reasonably. The price for either type of these rest aids ranges from about $25 to $150, depending on the material of the wedge. They are cared for in the same manner you would care for your pillow or other bedding.
Buy Recommended Bed Wedges
So, when it's time for sleep, raise your comfort level effortlessly by giving yourself the luxury of bed rest aids designed specifically for your needs. Finally, you will experience a well-deserved sense of relaxation. Imagine waking up refreshed and ready for another beautiful day.