Having trouble going in and out of your wash area? Consider investing in a bathtub bench. With increased immobility, especially among the baby boomers, the occurrence and concern for bath time accidents are on the rise.
Those who once dreaded bath time because it was a long process are now comforted because of increased bath time aids such as bathtub benches. With the aid of a bathtub bench, bath-related accidents are on the decline. Other family members are no longer concerned about bathtub accidents because of the extra stability the bathtub bench offer.
Recommended Best BathTub Benches
Larger Seat and Extended Bathtub Bench – This bathtub bench is larger than a regular seat and accommodates those who need a wider sitting area.
Simple and Sturdy Bath Bench with Back – There are a few sturdy and simple bathtub benches that can support up to 400lbs. It fits in almost all tubs or showers. The rubber feets will keep the bench in place and not allow the seat to slide around. There are a variety of choices for you to decide on and be sure to use their discounts.
Bathtub Benches – Place this bench on top of a bathtub and it becomes a safe seat. Drain holes on the bathtub bench allow water to flow through easily. Swivel seat allows for easy entry and exit from a bathtub.
BathTub Bench Installation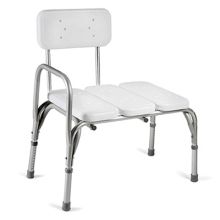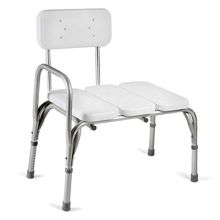 The installment of the transfer bathtub bench is very simple. Place one side of the bathtub bench on the outside of the tub and the other side inside the tub (when using a tub). Be sure the bathtub bench is stable on both sides of the tub. The operating directions for the tub transfer bench are easy to remember. The person utilizing the bench sits on the side not in the tub and slides to the other side with the aid of safety grab bars, side rails or only uses their upper body. If you need a simple bathtub bench that can be placed entirely inside the tub and can support your weight, check out the recommended best bathtub benches.
Bathtub benches are for all to use not just those that are limited in their mobility. People with arthritis or have problems steadying their feet when standing can use this bench with ease. There are padded tub benches with backrests for support and provides comfort to anyone using it.
Amputees can sit while bathing. Others find the bathtub benches useful when shaving their legs or performing cleansing habits that require one to sit for a lengthy time.
ADA Bathtub Bench Requirements
According to the American with Disability Act, the handicap bathtub benches must be mounted seventeen to nineteen inches from the accessible bathroom floor and shall extend the full length of the stall (for shower stalls 36 in by 36 in). The seat must be on the wall opposite the controls. When the shower is 30 inches by 60 in minimum shower stall, a fixed seat must be a folding seat and mounted adjacent to the wall controls. For private homes, get a bathtub bench that fits your needs, which may or may not fit the ADA guidelines.
The bathtub bench is easy to maintain. Because they are designed to go in a high-humidity area, bacteria and molding is not a problem with proper cleaning. Just wipe off the extra water and apply a mild scrubbing agent when ready to clean. Being easy and convenient, start and invest in a bathtub bench for your loved one today.