Bariatric walkers are specially designed with the obese population in mind. They are constructed to support a person's weight of up to 400, 500 or even 700 pounds.
In comparison to a standard walker, these heavy duty walkers have a stronger frame, wider design and other features that allow obese or morbidly obese people to become mobile. The frames are made of durable, light-weight aluminum or steel so that they can be carried easily.
Heavy Duty Bariatric Walkers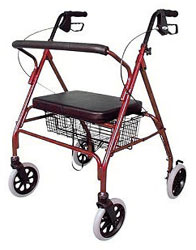 Bariatric rollators, or rolling transport walkers, are similar to standard walkers, but they are more advanced and allow for a more natural walking gait. They usually feature a seat that is equipped with comfortable padding so that consumers always have a readily-available place to sit. Most models also feature a padded, curved backrest. Rollators have large wheels that provide extra stability, and a wire basket that keeps personal items within reach. These bariatric rolling walkers have a price range of $69 up to $250.
Bariatric Walker Accessories
There are several walker accessories that boost the functionality of bariatric and handicap walkers.
For those who require the use of oxygen, an oxygen tank holder is available to securely hold the tank in place.
A speed tab can be added to provide resistance on the walker's wheels. This will ensure that the walker does not move too fast for the user and provide the most amount of safety for its user. You can chose to have four wheeled bariatric walkers with wheels or opt for a lift instead of a push walker.
Adjustable forearm platforms can be attached to provide a comfortable armrest. These armrests can be adjusted to a desired height and amount of rotation. Accessories can range in price from $32 up to $300.
Buy Best Recommended Bariatric Walkers
These devices are especially useful in the home. They are wide enough to support a larger frame, but narrow enough to fit through doorways and hallways. Many models also fold up easily for convenient storage and transportation. In addition, most models require little maintenance if any. They are the ideal solution for people who live alone but need help with walking. Walkers are a fundamental part of a person's rehabilitation and independence.