It appears that nowadays more outdoor enthusiasts with special needs are able to recapture their ability to be mobile with the most state-of-the-art recreational vehicles.
RVs are perhaps the perfect way for individuals to experience all that the open road has to offer, in comfort, convenience, and style. According to the US Census Bureau, roughly twenty percent of Americans experience a disability in some way. Luckily, there are an inordinate amount of suppliers these days that can make it quite easy for people dealing with mobility issues and other health related problems to travel in comfort.
Special Needs Camping RVs
Besides the typical amenities that come as part of a standard RV, e.g., plumbing, electricity, appliances, and entertainment, there are additional features available to those that have special needs. Some of these features include wheelchair lifts or wheelchair ramps, bright lighting, roll-under sinks, long faucet handles, roll-in showers, easily located controls, wide entrances, low kitchen counters and tables, and a lot more. RV's, for those with a disability, has been modernized and now provide amenities that only five star hotels used to deliver.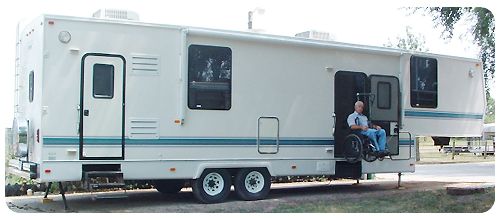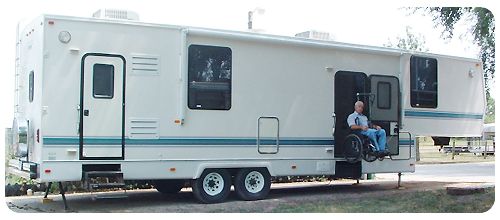 All of the aforementioned options, make it quite easy, for those suffering from disabilities. In fact, issues of finding a bathroom nearby, carrying heavy suitcases, getting around barriers, and keeping medications in a safe, cool place are taken care of in an accessible RV for disabled persons. When traveling in an RV, everything important is readily accessible, and instead of dealing with all of the potential difficult situations that arise in finding accommodations in hotels for those with special needs, an RV that contains all of these helpful amenities is by far the best option.
When the individual begins to see all of the latest breakthroughs in technology, in regard to accessible RVs, it becomes even easier due to the fact that many new campgrounds are also thinking in terms of accessibility; some have food services, paved sites for wheelchairs, or wide entries for scooters and walkers, and even recreation programs are offered in certain establishments. In fact, some of the most impressive campgrounds offer standardized health classes for many disabled folks, and others boast medical support facilities on premises.